Welcome to the official website for My Little Robot Son
A curious little robot learns about the human condition from his computer genius father and a set of wacky characters they meet online.

This short comedic web series highlights the relationship between a human father and his son, a miniscule robot with a desire to become human. The two interact with strange characters they meet online, who hire Ralph to do computer related tasks via video chat. Throughout the series, Little Robot exhibits a keen sense of self-awareness, an attribute his creator Ralph isn't always prepared to handle. The two must work together to navigate robot's "human" experience and Ralph's desire to "make it" in his field.
News
This web series is currently being edited and looking to launch it sometime in Summer 2021! Stay tuned for more information.
Who is Little Robot?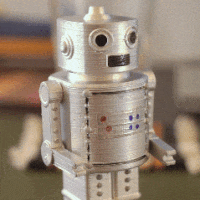 Throughout the course of the series, Little Robot goes through various stages of human development seeking answers to existential questions and nurturing a desire, "to be so much more." This journey keeps him on the lookout for purpose, identity, and even love. The small robot's goals are sometimes put to a halt by the absurdity of a technology-obsessed society. A curious individual, he can sometimes be a little cheeky and does not shy away from speaking his mind (in a monotone voice of course). Although simply designed and small of stature, Little Robot is capable of handling more than your average boy. ...he may just surprise you.
Who is Ralph?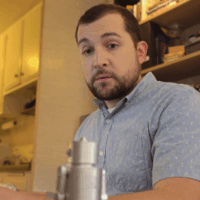 Ralph, a self proclaimed computer genius and inventor, is the creator of Little Robot. Throughout the series, Ralph is an archetypal and sometimes cliché father figure. Although he occasionally lacks the wisdom to give proper advice, he genuinely cares for Little Robot. While he'd rather be working on his own projects, Ralph is forced to take computer related contract work from weirdos online. Serving primarily as the bouncing board for other character's antics, Ralph also occasionally grounds the show in a feasible reality.